If you wonder whether hypnosis for social anxiety can help you, or think that hypnosis is some strange, woo-woo technique, let me ask you this:
Did you know that your conscious mind is just the tip of an iceberg when it comes to the way you perceive and react to everything surrounding you?
Wouldn't it be a massive waste of potential to disregard your subconscious and not use it into your advantage?
Hypnosis and self-hypnosis are some of the best techniques to reprogram your subconscious mind quickly and efficiently.
Now, by "quickly", I don't mean one hour or one day, even though some people do get life-changing results after just one session with a therapist.
However, positive results within a month are very common. One month is relatively quick when you consider all of the years you've wasted struggling with social anxiety without finding a way out.
For me, practicing self-hypnosis for social anxiety was life-changing. While some people are more susceptible to hypnosis than others, I am sure it can be a great benefit to most.
It was with self-hypnosis I first discovered that true peace is within me and within all of us. I realized that we just have to reconnect with that peace.
Tapping into that serenity is like finding a safe place inside of you that has always been, and always will be there, regardless of whether you feel it in any given moment.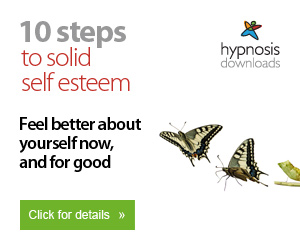 While there are a lot of misconceptions about hypnosis being a strange mind-controlling or ineffective technique, it's actually a serious, science-based and proven therapeutic method.
It is one of the several methods for overcoming social phobia that I describe in more detail in my guide "Bye Bye, Social Anxiety".
Here's an excerpt from my guide that lists some of the most common misconceptions about hypnosis:
When you are in the state of hypnosis as part of a hypnotherapy, you are NOT:
· unconscious
· unaware of your surroundings and what is going on
· in a state you can't control
· able to do something you do not want
· under complete control of the therapist or the voice on a tape
· in a supernatural or occult state
· asleep
· in any kind of danger of staying stuck in it
· unable to get out of it at any moment you would like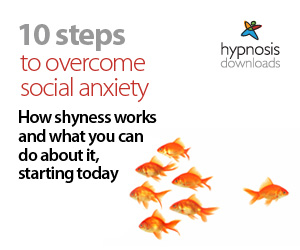 Hypnosis can be described as a high focus on a certain subject (positive suggestions, for example) while in a state of deep relaxation.
It's usually coupled with a relaxation technique. So in the worst case scenario, you get the benefit of relaxing your body and mind, which still sounds pretty good to me!
My self-hypnosis practice was inspired by the one described in books "The Subconscious Mind: A Source of Unlimited Power" by Erhard F. Freitag and "The Power of Your Subconscious Mind" by Joseph Murphy. Two books I wholeheartedly recommend. Both authors were among the leading authorities and pioneers in the field of hypnosis and New Thought.
Would you rather explore a more modern approach to hypnosis, and prefer listening to audio sessions than reading a book?
Check out the downloads and courses available at the number one page for hypnosis downloads on the internet. They are created and led by registered and experienced hypnotherapists Mark Tyrrell and Roger Elliott.
I have listened to some of their sessions related to overcoming social anxiety and highly recommend their products.
On their other website Uncommon Help, I also often find different and original explanations of important concepts.
Let me know your thoughts and questions on hypnosis for social anxiety in the comments below!
If you'd like to overcome social anxiety and transform your social life, check out the "

Bye bye, Social Anxiety

" guide and get on the fast track to inner peace and lasting confidence. It's an extensive ebook I wrote, based on my own experience with overcoming crippling social phobia.